Large Flow Reactors
Product Announcement from Hydro Dynamics, Inc.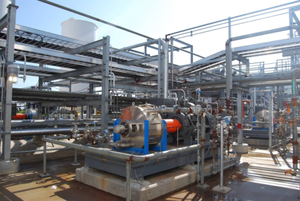 Hydro Dynamics, Inc. has installed reactors commercially capable of handling large industrial flows. Many other process intensification and cavitation technologies have low maximum flows. This often results in the inability to scale-up from lab results or running many smaller devices in parallel to accommodate commercial flows. The ShockWave Power Technology is capable of handling flows of 1,500 gallons per minute in a single device with no decrease in intensity from lab results.
Hydro Dynamics, Inc. would like to announce the shipment of two of its BD100 ShockWave Power Reactor™ capable of 100 million gallons/year of biodiesel throughput. The biodiesel reactors are to be installed in one of the largest biodiesel plants in the world. In cooperation with Advanced Biofuel Solutions, Hydro Dynamics, Inc. offers a leading technology for the transesterification reaction in biodiesel. With over 350 million gallons in capacity sold, SPR customers can realize improved quality and feedstock flexibility which are of growing importance in today's market.
You have successfully added from to your part list.
---