Product Announcement from Smiths Connectors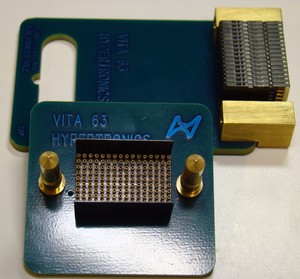 The KVPX platform offers the ability to scale from 80 Mbps to over 10 Gbps while retaining the same Vita 46 backplane slot pitch at 20.3mm to 25.4mm.
Like all Hypertronics products, KVPX connectors are highly engineered to allow for top performance under all dynamic environmental conditions. Through the use of the proven 0.40mm Hypertac® hyperboloid contact, KVPX connectors provide immunity to shock and vibration fretting, numerous linear paths of contact, and a self-cleaning wipe action that results in consistently better signal integrity for high reliability applications across a wide range of industries.The Hypertac contact system offers low insertion and extraction forces, low contact resistance, as well as industry leading mating cycles. Manufactured with 30 percent glass filled liquid crystal polymer (LCP) insulators and potted contacts, KVPX connectors withstand the high temperatures associated with soldering. The LCP insulators also exceed NASA space requirements for outgassing and have inherent keying features to prevent improper mating.
KVPX Series connectors perform under the most severe conditions, giving them the edge in demanding critical applications for military, aerospace, industrial, and medical devices where failure is not an option.
Fully footprint-compatible with VITA 46 and VITA 48 standards
Designed for 6.25Gbps data rate performance scalable to 10 Gbps
100 ohm impedance for differential pair configuration
Differential, single-ended and power
Separable interface offering 70 single-ended signals/25.4mm and 63 differential signals/25.4mm
Reliable, Hypertac®Hyperboloid contact technology
ESD protection supports 2 level maintenance designs
0.56 (0.022mm) diameter via for backplane connector
Flexible modular design for standard 3U and 6U
You have successfully added from to your part list.
---