Mini Heat Gun II Heat Gun Kit
Product Announcement from ICO RALLY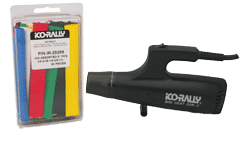 The heat gun is sold as a kit with 60, six-inch pieces of our most popular HIX heat shrink tubing. Sizes include 1/8", 3/16", 1/4", 3/8", and 1/2" (assorted colors).
The ICO RALLY part number for the MINI HEAT GUN II & Heat Shrink Tubing Kit is IR-25252.
To reorder a refill package ask your dealer for IR-25259.
---