Product Announcement from ILS Technology, LLC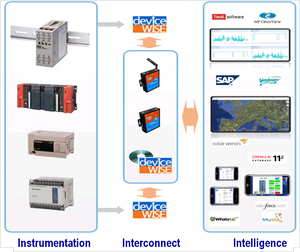 Today's manufacturers face unprecedented challenges in the form of rigid specifications, tight timelines and even tighter budgets. In addition, they operate in diverse production environments with several "best-in-class" machines bought from numerous vendors. Flexible work-flows further demand the ability to make rapid, precise line changes. In such a challenging environment, factory visibility and control become key to delivering world-class manufacturing.
ILS Technology's Industrial Automation solution enables:
real-time, direct communications between incompatible platforms on the shop floor, for ex: Seimens to Mitsubishi to Allan-Bradley (Rockwell) to Omron
seamless integration of shop floor data into enterprise (ERP) systems
shop floor visibility on the web and mobile devices
real-time data sharing and global collaboration
On-demand access to machines for remote remediation
ILS Technology's Industrial Automation solution allows customers to:
effectively operate a diverse production environment with minimal custom development
deploy new machines into legacy environments and transition critical legacy machines to new manufacturing IT platforms with ease
minimize machine MTTR (mean time to resolution), maximize machine uptime and implement process changes / improvements in real-time
Seamless connectivity is critical to delivering real-time factory visibility and control. ILS Technology Industrial Automation solution is a combination of its universal connectivity, real-time collaboration and web visualization products that deliver the same in an easy to deploy and use package.
ILS Technology Industrial Automation solution customers realize significant operational savings through streamlined manufacturing operations and can rapidly align production activities to changing business objectives.
To further explore how ILS Technology can help better your manufacturing environment, please contact us at 561-982-9898 or at ilstia@ilstechnology.com.
Download the deviceWISE M2M Application Platform brochure for Industrial Automation.
You have successfully added from to your part list.
---