"The Invisible Grille" System
Product Announcement from INVISYS Technology Pte. Ltd.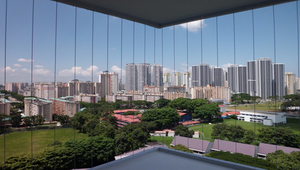 A new generation of safety and security grilles for many modern homes of the 21st century. Gone are the old and chunky steel grilles which kept the beautiful views beyond our windows from our eyes. "The Invisible Grille" system was specially designed to blend into the modern living environment effortlessly. It is the perfect solution between safety and visibility, where safety is not compromised and beautiful sceneries beyond the windows remain- unblocked.
"The Invisible Grille" system is mainly made up of fine high tension stainless steel cables laid over specially designed aluminum extrusion. The system can be easily incorporated into most home security systems, greatly enhancing the security performance. "The Invisible Grille" system offers almost an unblocked view, much better visibility as compared to the traditional window grilles without compromising the safety and security aspect.
"The Invisible Grille" system has been used by many landscape architects and pest control companies. Landscape architects installed the system in the gardens to allow creepers to crawl freely around them, replacing the costly shackles and installations. Pest controllers use "The Invisible Grille" system for aviary control, restricting bird access to designated areas.
"The Invisible Grille" system has been widely used in the residential and commercial building industries for its cost savings and easy installation.
Let us help you with your next project.
Contact Invisys now for your free, no obligation quote!
---