Product Announcement from IQMS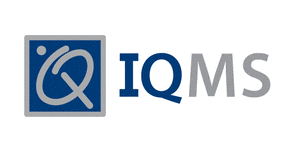 The EnterpriseIQ Quality Process Management System is an extensive suite of tools and capabilities necessary to cost-effectively manage quality issues while streamlining Manufacturing and ERP operations and facilitating collaboration. It is a powerful solution that enables compliance with the most stringent quality standards, including automotive (TS), medical (FDA, 21 CFR Part 11) and ISO standards and a reduced cost of quality.
Track quality in manufacturing parts with the same integrated database as your manufacturing, accounting, customer management and supply chain management systems. EnterpriseIQ Quality modules link directly to all ERP and Manufacturing -related information such as RMAs, non-conforming inventory, BOMs and much more with no redundant data entry. Experience the power of a truly embedded quality system as you eliminate duplicate entries and reduce errors, which in turn simplifies the audit process, improves the decision making process, and increases communications across your supply chain.
The EnterpriseIQ core system includes basic Quality functionality that ensures products consistently meet customer quality requirements allows manufacturers to monitor and control quality through:
Business Activity Monitoring
Inventory Inspections
Reject & Scrap Tracking and Analysis
Customer and Supplier RMA
Complete Audit trails
Supplier performance rating system
"Roles-based" user security
Document linking and tracking
Non-conform and Non-allocate inventory
Certificates of Conformance
Receiving Inspections
Lot and Serial number tracking and traceability
Master Specification Tracking
Realizing that not all users require the same level of Quality sophistication, the modular approach allows users the flexibly to add any of the following features as they need, when they need it.
Advanced Product Quality Planning (APQP/PQ)
Facilitate compliance to ISO and FDA requirements with complete tracking of all the information required for process documentation and definition.
Control Plans
Create, edit and view Control Plans and detailed inspection instructions with options for Prototype/Pre-launch/Production Control Plans.
Corrective Action Request (CAR/CAPA)
Define, manage, schedule, assign, and track Corrective Action Requests (CARs) to help ensure compliance and meet customer/supplier requirements.
Cost of Quality
Businesses can lose 15 to 30 percent of their total costs because their product or service was not done right in the first place. The EnterpriseIQ Cost of Quality module will help to drive tighter cost control by allowing manufacturers to see and eliminate poor quality and high production costs in areas such as rejects, unscheduled machine downtime, and returns or reworking.
Deviation Tracking
Deviation in EnterpriseIQ gives you a centralized, integrated location to create, track and maintain records for deviations to manufactured items.
Device History Record and PLM
The Product Lifecycle Management (PLM) and Device History Record (DHR) modules track products from the design and quoting process through production, to the end of the life of the product. Using e-mail and web based workflow tools, these modules promote open communication with suppliers and customers through all stages of the lifecycle.
Document Control
Secure Document Control and secure electronic signatures and approvals increase visibility and improve reaction time while adhering to the most stringent quality requirements including medical, automotive and ISO.
Engineering Change Order System
An easy-to-use module to control item revisions and bill of material changes for current and future adjustments while linking to the entire ERP and manufacturing system where critical changes matter most.
Failure Mode & Effects Analysis FMEA) and Risk Assessment
Versatile and customizable analysis tool to help you comply with company and industry requirements with options for design and process FMEA as well.
MRB
Track and maintain all non-conformances with with electronically document and detailed audit trails for raw materials, work in process or finished goods.
Production Part Approval Process / Product PQ
PPAP will help you determine if all customer engineering design record and specification requirements are properly understood and products consistently meet these requirements during an actual production run at the quoted production rate.
Statistical Process Control (SPC)
Enhance decision making based on readily accessible SPC data analysis. SPC module gathers part data entered from the plant floor, and Statistical Process Control Charts are generated based on the type of data, and include X bar-R charts for subgroups, X-MR charts for individuals, histograms for both types of data, and p and np charts for attributes.
You have successfully added from to your part list.
---