Product Announcement from IQMS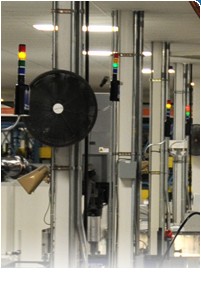 Take control of the plant floor with the RealTime Machine Monitoring from IQMS. EnterpriseIQ's RealTime Machine Monitoring takes plant management to a higher level, supporting machine management in real-time. All aspects of production are tracked immediately as parts are being made and applied to the shop orders, automatically updating ERP and Manufacturing software modules with schedule and finished product counts and more. The result of this embedded solution is improved efficiency, visibility and productivity.
Attach IQMS RealTime Lightsticks to production machines for immediate visible communication. Lighsticks use color-coded lights to indicate machine and job status visible by anyone from anywhere on the shop floor.
If you want shop floor monitoring and shift reporting at its most accurate, RealTime is the right tool.
Completely embedded solution eliminates costly, messy and cumbersome third party interfaces.
Follow jobs in RealTime as they move from the schedule through production.
View overall enterprise or specific work center performance from any computer on your network (even remotely) and check production as it occurs.
Drill down capability to view additional job details.
Instantaneous feedback on critical parameters such as total parts created, production time, down time, rejects and parts remaining to be produced, and cavitation changes.
Machine utilization, scrap and downtime reporting helps identify poor machine performance before it become a problem.
Color coded for fast, easy readability. Instantly identify late, slow, standard and fast running machines, and down machines.
Powerful shift reports provide accurate and timely production information including good and bad parts, downtime, rejects and more.
Simplifies Shift reporting and inventory reconciliation.
Simple to install, low maintenance, built for the shop floor environment. Expandable to track an unlimited number of machines!
Knowledge is power. With IQMS RealTime Machine Monitoring, control is in your hands.
You have successfully added from to your part list.
---