Product Announcement from IRD Glass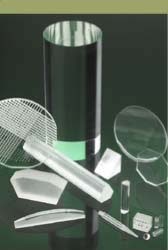 Flatness is controlled using a combination of interferometers, precision gauging and regular equipment maintenance. Flatness of 1/10 wave and better is achieved regularly, along with parallelism up to 5 arcseconds or .000030" over a 9"+ substrate. Many components with tight angular tolerances are controlled to better than 3 arc-minutes, and NIST traceable certificattion accurate to within 5 arc seconds of the optical angle is available if required.
IRD Glass also manufactures all sorts of custom optical and non-optical components made from a wide range of raw materials. They excel at holding very precise tolerances to help customers solve problems resulting from excessive variation. Due to customer intimate solutions, they are the sole-source provider to large and small corporations in varied industries.
They use many different types of high grade optical materials to make custom components, and they also apply custom thin-film coatings designed to improve optical performance. Standard coatings provided by IRD include mirrors, durable anti-reflection, high laser damage threshold coatings; band-pass filters, beam-splitters and other specialty coatings. Some of the high quality materials used at IRD include nBk7, B270, high index glasses, Schott filter glass, fused silica, quartz, 33 expansion borosilicate (Pyrex and others), Zerodur, and ULE.
IRD also assembles and tests the optics in mounting devices using UV-curable and other adhesives when requested by the customer.
Please reference the IRD Glass website for other typical and best tolerances for some standard operations.
For additional information please visit our website at http://www.irdglass.com or call us at (320) 693-7217
You have successfully added from to your part list.
---