Product Announcement from ITOH Denki USA, Inc.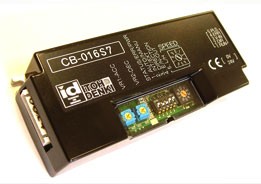 Adjustable acceleration and time (0 to 2.5s deceleration), Stable speed operation, Manual or automatic recovery of the thermal overload device, and much, much more!
• One (1) DIP switch combined with one (1) rotary switch to select up to 20 different fixed speeds
• Forcibly stops the motor if motor lock or thermal overload error lasts for 4 seconds or more.
• Three (3) LEDs (green, red, & orange) to identify the type of error and number of error occurrences
• Error occurrence indication
• Displayed only when error condition is present
• Pulse signal output to indicate motor revolution
• Lead free design; RoHS compliant
• Low Voltage Protection reacts when
• Sustained low voltage (less than 15V DC) for at least 1 second
• Fluctuating voltage dropping below 15V DC, 5 times within 0.5 second
• Delayed Start-up Over-current response
• 1 second delay after RUN signal is applied, before over-current indication is active
• Eliminates false over-current indication during motor start
• External Direction control
• When external DIR signal is changed while motor is running, the motor stops for 0.5 second, then runs again in opposite direction
Enhancements over CB-016S4
• Increased Torque / More efficient components / Improved protection against generated voltage due to Power Moller overspeeding.
• Snap-on cover makes NPN/PNP switching easier (better visibility) / Card does not have to be removed from conveyor frame to remove
You have successfully added from to your part list.
---