Cannon MKJ Series Connectors
Product Announcement from ITT Interconnect Solutions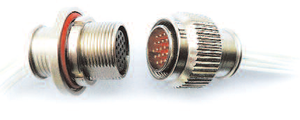 MKJ Series Connector
Since 1915, Cannon has been innovating circular connectors beginning with the first "Cannon Plugs." Over 90 years later, ICS continues this tradition with our new "Trinity" line of miniature circular connectors. With this innovative new product line, three truly is a magic number. Bringing a unique combination of Design, Functionality, and Flexibility, the Trinity product line excels in delivering a broad product line tailored directly to extensive VOC. In particular, this product demonstrates its robust design through the inclusion of specific, customer requested technologies including Pogo Pin contacts while delivery these technologies in a small, miniature circular form factor which provides substantial savings in both size and weight.
Regarding functionality, Trinity again excels by providing various functional capabilities including threaded coupling, bayonet, and breakaway. Packaging these characteristics together, Trinity provides unparalleled functionality for numerous applications across multiple markets including Industrial, Medical, Aerospace, Military, and Space. Our Trinity product boldly positions itself as a primary resource to tackle your matrix of possibilities.
Product Features
• High contact density: size 23 contacts accommodate #22 - #28 wire and allowing 0.076 inch contact spacing
• Available with 3-85 rear release crimp or PCB contacts
• Master key with 2 secondary keys. 4 clocking positions available
• Significant weight and size reduction compared to traditional Mil Standard environmental connectors
• Available in jam nut, in-line, and square flange rear crimp receptacle versions. Jam nut and square flange PCB receptacle versions
• Rear accessory thread or integral band platform for direct attachment of cable shield or overmold
• Wire seal grommet for rear environmental sealing. Pin fluorosilicone interfacial seal provides interface sealing.
• Available with double start threads allowing full mating in 1.5 turns
• Available with quick push/pull breakaway mechanism utilizing canted retention spring for quicker mating and demating
• Available with bayonet 1/4 turn locking mechanism
• Available with Pogo Pin technology utilizing ITT's unique spring probe pin/pad contact system
Applications
• Medical equipment: test and diagnostic
• Industrial equipment
• Commecial and militray aircraft electronics
• Unmanned aerial vehicles
• Missile systems
• Avionic systems
• Satellites
• Sensors
• Instrumentation
• Interconnections for helmets, weapons, battery packs, night vision goggles, aircraft headsets, etc.
• Navigation and Telemetry equipment
• Ruggedized computers and hand held communications equipment
---