Product Announcement from ITT Cannon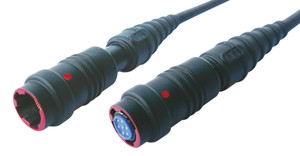 ITT Interconnect Solutions, a leading global manufacturer and supplier of connectors, interconnects, and cable assemblies, has expanded its circular connector product offering to include a lightweight, small form-factor version that offers significant space savings for handheld and medical devices. Designated the Nemesis Series, the miniature circular connectors are 50% lighter, 60% smaller and 100% sealed when compared to the 38999 series interconnects . Providing full 360-degree EMI shielding, the Nemesis Series is fully sealed to IP67/IP68 specifications for harsh environments.
The Nemesis Series "Space Saver" low profile configurations provides a "ripaway" decoupling action for equipment requiring interconnects that combine power, data and audio. The "Super Clean" configurations are easy to clean with a patented draw-back barrel design, which allows cleaning of both interfaces and reconnection in mere seconds. Rugged stainless steel construction provides durability, while an enhanced strain relief design eliminates cable overstressing. The connectors feature the patented breakaway pogo pin contact technology, guaranteeing more than 10,000 mating cycles and assuring easy connector mating and unmating. The Nemesis Series'
pogo pad receptacle design eliminates the necessity for dust-caps and removes "fouling," often a problem in harsh environment connectors with non-pad receptacles.
"Providing optimum performance in handheld and medical equipment, the innovative and patented Nemesis Series range enables customers in various industries to realize 60% size reductions in typical applications while enhancing the sealability, functionality and design characteristics of their latest products. Taking interconnect profiles to a minimum level, our industry-leading and space-saving no profile variant enables the lowest possible profile for ruggedized, wearable equipment. Complementing this capability is our novel ripaway decoupling action, which allows unique and quick decoupling," said David Impett, product manager for ITT ICS.
The Nemesis Series' design innovations also include "blind mating" for reliable and fast connection without the need for visual or mechanical keying. Salt spray-resistant plating on the connector shells protect the vital connector while the seamless ribbed overmolding provides a non-slip grip in damp conditions.
Available with RoHS compliant black zinc nickel or electroless nickel plating, Nemesis Series connectors have been designed with anticipation of future revisions of MIL standards.
Further Nemesis Series specifications are available from www.ittcannon.com.
You have successfully added from to your part list.
---