Product Announcement from InCon Process Systems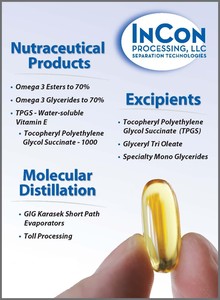 Beat the Vitamin E TPGS shortage. InCon announces that we have Vitiamin E TPGS to maintain your supply. We have become the leader to meet the critical shortage since the major supplier exiting the business. Call Heath Miller at +1-630-761-1180 for details.
Product Data Sheet
Vitamin E TPGS-FG FCC cGMP Food Grade

Application/Uses
· Enhance Absorption
Water-soluble source of Vitamin E
Animal Nutrition
Emulsifier for Fat Soluble Ingredients
Product Description
Antares Health Products' Vitamin E TPGS is a water-soluble solid form of natural-source vitamin E. TPGS or d-alpha-Tocopheryl Polyethylene Glycol Succinate-1000, is a waxy solid that melts at 36 to 41 degrees C. It is water soluble and provides a readily absorbed source of vitamin E especially for individuals who have difficulties absorbing fat-soluble vitamin E that is often caused by diseases and conditions that affect liver bile production and secretion such as Cholestasis, Crohn's, Cystic Fibrosis and drug therapies. Because TPGS emulsifies with fats, it can be used in conjunction with fat-soluble drugs and nutrients to enhance their bioavailability. It is both hydrophilic and lipophilic to improve bioavailability and is easily incorporated into foods and beverages. As a water-soluble form of vitamin E, TPGS is used as a uniquely productive carrier in dietary supplement formulations.
Properties Typical Values Physical Form Waxy solid Appearance White to light tan Specific Gravity @ 45°C 1.04 approximate Molecular Weight 1513 approximate Melting Point approx., °C 38-41 °C Solubility in Water Miscible Vitamin E content, as d-alpha-tocopherol 26 to 29% Vitamin E Activity 260 to 290 mg/gm
Comments: Properties reported here are typical of production batches. Antares HP makes no representation that the material in any particular batch will exactly meet these values.
You have successfully added from to your part list.
---