Product Announcement from Indelac Controls, Inc.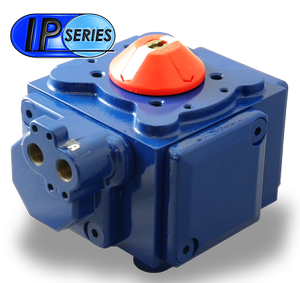 The IP series is a quarter turn rack and pinion pneumatic actuator that is patented worldwide. The superiority of the IP series actuator over single and double rack and pinion actuator designs, results from the four pistions which generate torque around a centrally located pinion, thereby giving more than double the torque achieved by these other designs. The increased number of pistons in the actuator allows their diameter to be reduced while maintaining its high torque. this also allows the overall size of the actuator to be reduced and become more compact.
TORQUE (at 80 psi)
IPDA15 172 Lb-In 19 Nm
IPDA20 311 Lb-In 35 Nm
IPDA25 639 Lb-In 72 Nm
IPDA30 1,052 Lb-In 119 Nm
IPDA35 1,848 Lb-In 208 Nm
IPDA45 3,622 Lb-In 408 Nm
IPDA60 8,585 Lb-In 967 Nm
IPDA75 15,856 Lb-In 1,786 Nm
AIR SUPPLY
NAMUR G1/4"
SIL RATING
3
ENCLOSURE
ISO 9001 Certification, ATEX 94-9-EC approved to category 2 for use in potentially explosive areas.
COATING
Anodized internally and externally with an exernal epoxy base layer and a second polyuretane paint to protect against aggressive environments. (standard)
Electroless nickel coating of the body, covers, and stop (optional)
OUTPUT
NAMUR
MOUNTING PAD
NAMUR VDI/VDE3845
ISO 5211, DIN 3337
POSITION INDICATOR
Visual position indication
WEIGHT
IPDA15 1.98 Lbs.
IPDA20 3.3 Lbs.
IPDA25 6.2 Lbs.
IPDA30 9.7 Lbs.
IPDA35 15.7 Lbs.
IPDA45 24.3 Lbs.
IPDA60 57.3 Lbs.
IPDA75 112.7 Lbs.
TEMPERATURE RANGE
Buna N -4°F to 176°F
Viton -4°F to 250°F
EPDM -40°F to 176°F
You have successfully added from to your part list.
---