Heavy Duty Indexing Tables
Product Announcement from Indexing Technologies, Inc. - ITI Tooling Co., Inc.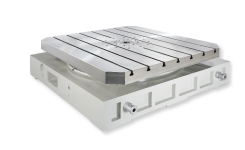 When using our Heavy Duty HC-HB Series of precision, Hirth coupling style Non-Lifting Indexing Tables designers of Machine Tools or users of Horizontal Boring Mills, Milling Machines, plus Drilling and Tapping Machines, etc., can achieve greater productivity and profits.
All models from 18" to 80" round, square or rectangular use a precision 3-piece HIRTH coupling for rigidity and accuracy. The HIRTH couplings have either 72 teeth for indexing in 5 degree increments or 360 teeth for 1 degree steps and have a standard accuracy of +/- 4 seconds of arc.
The tables can carry loads up to 33,000 lbs., depending upon the model, and are driven in either direction via a servo motor and clamped hydraulically during the machining cycle.
Many versions are available for Machine Tool OEM use, built with a custom housing that includes the mounting areas for attaching guideways and a ballscrew nut.
An optional self-contained "package" includes a compact single axis controller with integral servo drive. The table functions are programmed using an MDI keypad and triggered manually or via an "M" code from the host machine control. A hydraulic power pack and valve group is included, plus all cables and hoses are fitted with "quick disconnects" to allow rapid mounting and removal from the machine or transporting between several machines.
><><><><><><><><><><><><><><><><><><><><><><><><><><><><><><><><><><><><><><><><><><><><><><><><><><><><>
For more information, please contact Indexing Technologies Inc. at (201) 934-6333 or e-mail us at Info@IndexingTechnologies.Com
---