Tailstocks-Heavy Duty Work/Tombstone Supports
Product Announcement from Indexing Technologies, Inc. - ITI Tooling Co., Inc.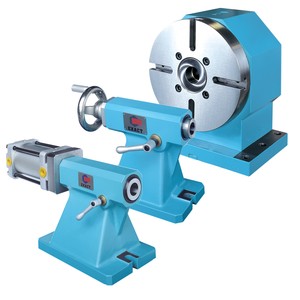 The ITI-ExactTM MTS, ATS and BTS Tailstocks have been designed to accommodate many of our Non-Lifting Indexing and NC Rotary Tables when heavy and/or long piece parts are being machined.

Tailstocks from the MTS and ATS Series are typically used when machining long slender piece parts on a machining center, milling or grinding machine. The MTS models are actuated via an operator rotating the hand wheel until the required pressure is reached. The ATS models have an air or hydraulic cylinder attached, providing more automated operation.

The heavy-duty BTS Series is fitted with a hydraulic distortion-free brake assembly, which is actuated after rotation is completed; this ensures maximum rigidity and accommodates high-cutting loads on the piece parts. This series is also used for heavy loads when several Tables are fabricated together to make a 2-Axis Rotary-Tilting Table Assembly.
*Note: The BTS Series are also often incorporated in the design of multi-sided "tombstone" fixturing for machining centers.
><><><><><><><><><><><><><><><><><><><><><><><><><><><><><><><><><><
For more information, please contact Indexing Technologies Inc. at (201) 934-6333 or e-mail us at Info@IndexingTechnologies.Com
---