GREATER FLEXIBILITY TO MACHINE LARGE PIECE PARTS
Product Announcement from Indexing Technologies, Inc. - ITI Tooling Co., Inc.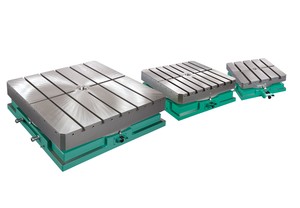 The "MBT" series of Manual Indexing Tables incorporate a precision HIRTH Coupling (Face Gear) for optimum positioning accuracy, repeatability and rigidity. Offered with either 360 teeth for 1° indexing or 72 teeth for 5° spacing, all within a radial accuracy of +/- 2 seconds of arc.
Available in 10 different frame sizes, with tables ranging from 18" to 118" square or rectangular, all prepared with precision "T" slots ~ alignment slots, plus a center "pilot" bore for rapid and precise fixture locating.
The "MBT" series of pneumatic Manual Indexing Tables are completely self contained and are supplied with removable lifting bars which enable them to be easily moved on and off a machine or between different machines as needed.
With a load capacity of up to 50,000 lbs. there's a model suitable for most applications on Horizontal Boring Mills, Machining Centers, Milling and Grinding Machines, or Grinding and Gear Cutting Machinery.
*Note: Many users leave the piece part and fixture on the table and move the entire assembly through a variety of machines and operations to reduce valuable set-up time.
><><><><><><><><><><><><><><><><><><><><><><><><><><><><><><><><><
CMTS 2015 Sept. 28th - Oct. 1st, Mississauga, Ontario - Booth #2799 - Come visit and speak with our technical sales force to review the latest product features first-hand and determine how you can benefit from them.
For more information, please contact Indexing Technologies Inc. at (201) 934-6333 or e-mail us at Info@IndexingTechnologies.Com
You have successfully added from to your part list.
---