Quick Change Tool-Holding Systems for CNC Lathes..
Product Announcement from Indexing Technologies, Inc. - ITI Tooling Co., Inc.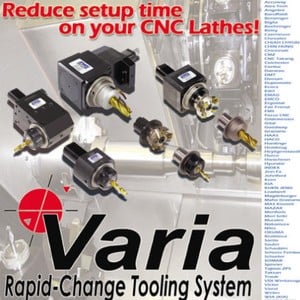 Quick-Change VARIA is a fast, safe and flexible tool holding system that is used to greatly improve the productivity of most modern CNC lathes. It will enable you to exchange most cutting tools and get your CNC lathe back into production in the shortest possible time ~ guaranteed!

The "highlight" of this successful system is that instead of replacing the tool by removing it together with the tool holder or live spindle unit, with Quick-Change VARIA, it's simply a small tool head and the cutting tool that is exchanged. The large tool holding fixtures and heavy spindle units stay on the lathe.
Plus, we exchange these tool heads in the minimum amount of time due to our unique and patented single "rapid-clamp" screw device.
By using pre-set tool heads and with our single rapid-clamp screw device, experienced users frequently exchange tools within a few seconds. On many machines, the single clamp screw is set-up to orient towards the operator when the machine stops, no need to reach into the machine among the many sharp cutting edges and chips to find the clamp screw, plus our patented clamp does not require any radial force to release it.
There's no need for the operator to grasp onto any warn or broken tools while they are being unclamped. Now, they simply blow off the area, rotate the clamp screw 180 degrees with the supplied "T" handled Allen wrench, this releases the existing tool head and bumps it forward slightly in the holder for easy removal.
Then a replacement pre-set tool head is inserted into the holder, the clamp screw rotated in the opposite direction pulls the tool head back against a datum surface and firmly locks into place.
That's it; the lathe is now ready to continue.
Not only do the Quick-Change VARIA tool holding components register together accurately and form a rugged assembly, they are very compact and offer a greater interference free work zone on the lathe.

The interchangeable tool heads of the series: V3 (VDI 30) and V4 (VDI 40) can be used on a variety of different base units and tool spindles offering almost limitless flexibility and added cost savings to the user.
Now, with the introduction of larger V5 (VDI 50) series, additional machines can also benefit from this simple safe and cost effective tool holding system.
Also available for BMT (Base Mount Tooling) Style Turrets.
**IN SUMMARY: By using the Quick-Change VARIA - Tool Holding System, one can save valuable time when changing tools while still retaining the highest possible precision and rigidity. Save money and provide the maximum safety for the operator.
Quickly change cutting tools with only one clamping point
No risk of injury when changing tools
Clamping of the inserts without any radial force
Safe torque transmission
No loose parts
***********************************************************************************************************************************************************************
For more information, please contact ITI Tooling Company Inc. at (201) 934-6333 or e-mail us at Info@ITItooling.com
---