Product Announcement from Indium Corporation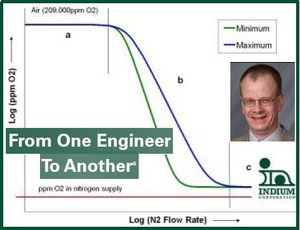 From One Engineer to Another
Abstract
In my twenty years in the electronics manufacturing industry, I have heard a lot of claims made about the use of nitrogen in inerted soldering processes: many of them completely wrong.
In this paper, we will talk about reflow in an enclosed oven, although many of these discussions may pertain to wave soldering and even vacuum soldering.
Let's start with the real reason assembly engineers use nitrogen in inert soldering: because it is the cheapest gas available that does not react with hot metal surfaces to form an unsolderable film. That's it. Period.
People who use nitrogen for reflow are not using it because it has any wonderful properties. They are using it because it has low oxygen and moisture levels, and can purge (in other words: dilute) oxygen down to a level low enough to prevent or slow the oxidation of metal surfaces during heating.
You can access the full paper here
Dispelling 10 Myths About Nitrogen Reflow (.pdf) SCROLL DOWN TO SEE ANDY'S VIDEO
About Dr. Andy Mackie PhD, MSc author of the Semiconductor Assembly Blog.
Dr Mackie has over 20 years' experience in wafer fabrication andsemiconductor packaging materials and manufacturing. and is an industry expert in physical chemistry, rheology and materials He is a member of the ITRS, JEDEC, SEMI, iNEMI, and SMTA, and is on the editorial advisory board for Chip Scale Review magazine.
You have successfully added from to your part list.
---