Eutectic AuSn Alloy for LED Die Attachment
Product Announcement from Indium Corporation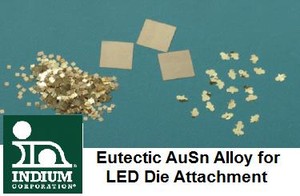 Eric Barstow's presentation "A Comparison of Eutectic AuSn Alloy Delivery Options and Assembly Processes for LED Die-attachment", focuses on gold-tin alloys and their ability to meet the stringent requirements of current environmental legislation, as well as the challenges of assembling modern electronics devices
High-power semiconductor devices, such as high-brightness LEDs, must be mounted using a die-attach material that can handle the temperature fluctuations generated by the chip, and the mechanical stresses due to CTE mismatches between the die material and the substrate upon which it is mounted. The die-attach material must also comply with current legislation, which restricts manufactured products from containing numerous materials due to environmental concerns. Gold-tin survives these stresses, possesses favorable materials properties, and can be processed without a flux.
Eric Bastow will present at the International Microelectronics and Packaging Society (IMAPS) Metro Chapter in Ronkonkoma, NY, on Wednesday, September 26.
If you cannot attend the presentation read more about Eutectic AuSn Alloy and you can e mail Eric with your inquiries via the link on the left
You have successfully added from to your part list.
---