Meeting the Critical Needs for Medical Products
Service Detail from Indo-US MIM Tec Pvt. Ltd.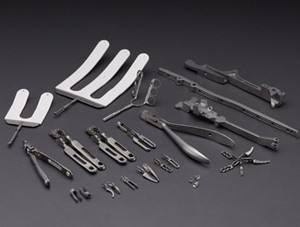 Indo-MIM continues to invest in not only the latest MIM technology, but also in the most advanced capabilities in finish machining, heat-treating, and performance surface coatings. We not only provide world-class MIM products but a full range of services including plastic injection molding, insert molding, supply chain management as well as integration and packaging in our ISO Class 8 cleanroom.
Indo-MIM provides a wide variety of material solutions for surgical instruments, orthodontic appliances as well as orthopedic implants. For instruments, high strength and wear combined with good corrosion resistance can be found in our 17-4PH, 420 and 440C grade stainless steels. Our 316L grade stainless steel is a popular choice for applications requiring high ductility with excellent corrosion properties. For orthodontic appliances, we provide 17-4PH as well as Ni-Free grades of stainless steel. Orthopedic implant applications are growing for MIM and we are here with a full range of material solutions including Co-Cr as well as Titanium alloys with HIP processing for these critical applications. Besides our standard array of off the shelf solutions, Indo-MIM maintains a world-class materials laboratory to develop a custom solution for your most demanding products.
MIM Medical Product Solutions:
Surgical Instruments - Endoscopic graspers & scissors, instrument bodies, scalpel handles, forceps, endoscopy, ablation electrodes
Orthopedic - Trauma plates, screws, spine (implants & external fixation), orthopedic surgery tools (power & hand)
Orthodontic & Dental - Orthodontic brackets, dental instruments
Hearing Devices - Housings, implants
Indo-MIM Medical Capabilities:
Product design and material selection assistance
Prototyping and low volume development
Low and high volume MIM production
Micro-molding
Automated manufacturing and inspection
Precision grinding and CNC machining
Laser cutting and welding
Heat-treating and PVD surface coatings
Micro-blasting and passivation
Plastic insert molding
Plastic injection molding
Integration and packaging in ISO Class 8 cleanroom
To contact us, please click on the following links to request a quote or send us an email.
---