Glass Surface Control Panels , Moblie Devices
Product Announcement from Indukey North America LLC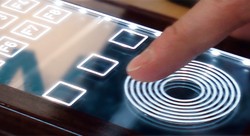 Glass Surface Control Panels from Indukey
Cleanliness, aesthetics and functionality

User interfaces made of glass are offered now by the data input specialist InduKey as a solution for the device and apparatus operation.
In addition to the aesthetic appearance, they dispose of a high level of functionality. Complete key layouts, individual designs, additional functions such as acoustic feedback signals or cursor controls can be realised without any problem.

The user interfaces made of glass are capacitive keyboards. The sensors and the evaluation electronics are provided on a printed circuit board. The position of the sensors represents the position of the keys or the key pads respectively. In order to achieve a particular layout of the key pads a new printed circuit board design is required respectively.

In principle, a fitted circuit board on the basis of capacitive sensors already represents the technical perfection of this type of data input. The finger which effects the operation approaches the electrical field above the sensor until a signal, which is released by capacity variations is emitted towards the controller. The signal processing is effected as with a traditional keyboard.

For the realisation of suitable user interfaces, capacitive keyboards dispose of a high level of creative potential. Thus the electrical field of a capacitor penetrates the different materials with a various levels of thickness. Glass, plastic or other non-conductive materials are possible. Behind these materials, the printed circuit board of the capacitive keyboards can be fixed. In such case the graphical design of the user interface is restricted by the position of the sensors on the lower surface only. The design of opaque materials such as wood can be effected directly on the surface whereas in case of glass keyboards, a graphically designed decorative sheet is inserted between the glass and the printed circuit board. However, engraving of a glass pane, which is opaque towards the printed circuit board, is possible as well.

As a customer specific solution, InduKey offers above all user interfaces made of glass or high-strength plexiglass. The reason for this is the high aesthetic value on the one hand and the hygiene relevance on the other one - glass can be cleaned completely and easily. Another advantage of glass is the fact that it is possible to realise attractive lighting effects. Building technology represents a further field of application in which aesthetic user interfaces become more and more important.
You have successfully added from to your part list.
---