Product Announcement from Inductotherm Group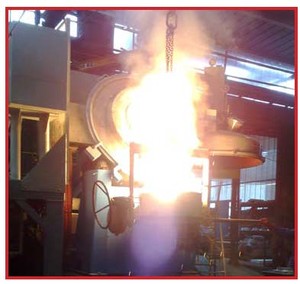 Consarc, an Inductotherm Group company, has developed a new range of induction melting furnaces for processing ferrous and non-ferrous metals under vacuum in liquid state.
Consarc has more than 40 years of experience with designing Vacuum Induction Melting Furnaces (VIM) and Inductotherm is the world leader in induction melting furnace and power supply technology. With this new product the technology and experience of these two giants in their field is combined to provide a flexible melting furnace system for melting metals in air, vacuum or controlled atmopshere - Vacuum Cap (VCAP).
The VCAP furnace is designed for Induction Melting a solid charge in an air atmosphere (or vacuum), with final degrassing stage under vacuum. The final pouring of the metal is performed in air or under protective atmosphere of inert gas. Configuration is based on the Inductotherm range of steel shell induction furnaces which are fully adapted by Consarc for vacuum treatment of liquid metal.
You have successfully added from to your part list.
---