Product Announcement from Inductotherm Group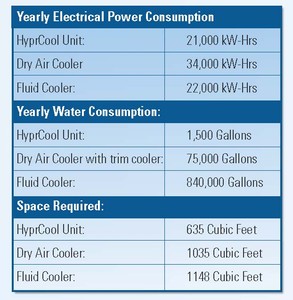 EMSCO, Inc.'s HyprCool hybrid process cooling system utilizes an adiabatic wetted cooling unit for water system heat rejection.
The HyprCool system combines the advantages of fluid cooling systems in the summer months to provide highly effective heat rejection for industrial processes. The hybrid approach releases a fine mist spray into the air prior to contacting the copper cooling tubes which lowers air temperature and increases the heat rejection capacity of the unit. The control system cycles individual fans as process water and ambient temperatures dictate and ultimately activates the water spray mist when warranted. During the colder months water mist spray activation is not required and the unit operates as a dry air cooler, eliminating sump freezing and dangerous ice buildup common with fluid coolers.
This system reduces electrical consumption and significantly reduces water usage when compared with a fluid cooler. The "V" shaped design condenses the footprint compared with a typical dry air cooling tower saving valuable real estate.
You have successfully added from to your part list.
---