Continuous-Clean, Magnetic Drawer-In-Housing
Product Announcement from Industrial Magnetics, Inc.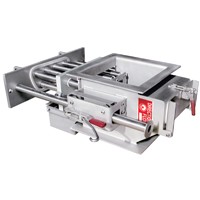 Industrial Magnetics Drawer Magnets, or Drawer-In-Housings, consist of rows of round magnetic tubes that are assembled into drawers. Each drawer magnets' tubes are aligned on alternating centers from the row directly above or below it. As product flows into the top of the housing, it is forced to cascade in a zig-zag pattern from row to row over the magnetic tubes. This ensures maximum tramp metal capture since the product comes in direct and repeated contact with a magnet as it travels through the housing.
As ferrous metal passes through the magnetic field, it is held to the tubes and separated from the product. The metal must now be cleaned from the tubes on a regular basis to prevent buildup and subsequent wash-off back into the product flow.
Self-Cleaning Housing
IMI's Self-Cleaning Magnetic Drawer-In-Housing is ideal for hard to reach locations, removal of fine tramp metal, or an automated processing plant. A toggle switch allows the operator to actuate the cleaning action from a remote location. In seconds, the air-actuated stripper device discharges collected tramp metal outside the housing. Standard sizes range from 6"x6" to 24"x24" inlets and outlets in even increments. Custom sizes are available upon request, as well as transitions to match existing equipment.
Continuous-Cleaning Housing
IMI's Continuous-Clean Housings are ideal for remote magnet installation locations, applications requiring frequent cleaning and fully automated processing systems. The cleaning process is continuous and does not require the product flow to be stopped. The cleaning cycle is completed in a matter of seconds. The air-actuated stripper seal assembly discharges collected tramp metal into a leak-proof enclosure with a discharge chute that ensures clean operation and isolation of possible hazardous materials.
EZ-Clean Housing
The EZ-Clean Drawer-In-Housing is designed to simplify the cleaning process for quick removal of collected tramp metal.
To initiate cleaning, the operator pulls two handles on the front of the housing which removes the magnetic drawer from the product flow. As the drawer is pulled out, each magnetic tube passes through a seal which wipes the accumulated metal from the tubes. A catch pan is located under the tubes on the front of the housing to collect the metal for proper disposal.
Manual Clean Housing
Manual Clean Drawer Magnets are ideal for applications with low levels of tramp metal contamination. The housing consists of two or more banks of magnetic tubes on alternating centers. To clean collected tramp metal from the tubes you simply open the door, pull each bank of tubes out, and wipe the metal off the tubes with a shop rag or gloved hand.
Please click on the buttons to the left for more information or request a quote today!
---