Pneumatic Magnets in Sheet Handling Applications
Product Announcement from Industrial Magnetics, Inc.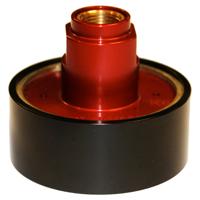 The Low Profile Transporter® LP magnetically transfers metal blanks, stampings and parts in automated station to station, press-to-press transfer and robotic pick and place systems. Typical applications include stamped parts, tailor welded blanks, body panels and refrigerator door panels.
Uses up to 95% less air than vacuum cups
Grasps odd shaped or perforated parts
Operates effectively in any orientation
Outlasts most vacuum cups
Positively holds parts - no dropping or shifting
Threads onto typical 3/8" NPT vacuum cup tooling
Operates on 25 to 60 psi shop air
Approximate weight 0.75 Lbs.
Durable design for long maintenance free operation
The Transporter® LP is designed to directly replace vacuum cups with minor tooling and valve adjustments. Powerful Rare Earth magnets positively hold the parts during transfer, greatly reducing the chance of slipping and shifting of your part due to oily coatings. An optional "low-skid" boot is also available to increase grip on parts during transfer. A short burst of shop air pressure is applied in order to release parts. To pick-up or grip parts, the air pressure must be exhausted to the atmosphere.
De-stacking (Option DS): The de-stacking option is required for applications de-stacking metal that is thinner than .0478"(18 ga) with the TPLP30 model. The de-stack option features a special magnetic circuit that is designed to de-stack sheets as thin as .0149" (28 ga). The optional low-skid boot is required for certain applications.

Download Product Page
Please click on the buttons for more information or request a quote today!
---