Standard Ceramic Plate Magnets
Product Announcement from Industrial Magnetics, Inc.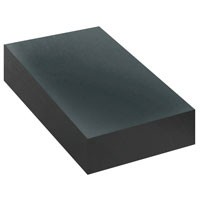 IMI's plate magnets are designed for magnetic separation in angled chute applications, with either above-the-flow or below-the-flow installation, and are ideal for capturing ferrous tramp metal or metal fines to prevent metal contamination of products and to protect downstream processing equipment from damage.

Plate magnets are common in unimpeded product flow applications or with products that have a dry to slight moisture content such as, powders, granular, leafy, etc.

Ceramic magnet material is a nonmetallic compound of iron oxide, strontium ferrite and small quantities of other metal oxides. The compound is calcined wet ball milled to a fine particle size, binders are added, then the mix is compacted in a press. The compacted shapes are fired at high temperatures in kilns to a closely controlled temperature cycle. Upon cooling, the parts are diamond sawed and diamond wheel ground to specifications.
Low cost, light weight and fairly high energy.
Ceramic is a hard, brittle, nonconductive material.
It is difficult to grind and cannot be E.M.D.'d, machined or drilled by normal methods.
Ceramic is dense black or blue-black in color.
It has a thin cross section, is mostly available in slabs or rings and is usually oriented magnetically through its thickness.
Ceramic magnet material performs best when temperatures do not exceed 350OF.
You have successfully added from to your part list.
---