Ingersoll Rand ARO Flex Check Diaphragm Pumps
Product Announcement from Ingersoll Rand Industrial Technologies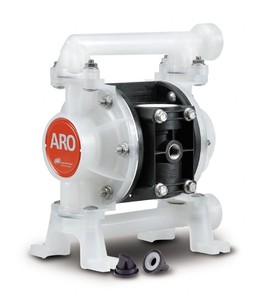 The versatile Diaphragm Pump fluid check arrangement that can handle fibrous semi-solids and mounts in any configuration. Featuring flexible-yet-durable internal fluid checks with a slotted-reed design that permits stringy, fibrous materials to pass through the pump. Its compact size, rugged construction and ability to be plumbed and mounted in any of 360-degrees make Flex-Check™ the most flexible fluid handling pump available on the market.
Flex Check™ Features:
Passes stringy and fibrous fluids and semi-solids (up to 1/8").
Positive priming with higher suction lift (20%)improvement over ball valve designs.
Non-Siphoning Performance - Once the pump is shut off, the fluid flow stops, prime is maintained.
Flex Check™: How it works
The Flex Check™ valve is a single-piece, molded rubber component that opens and closes in response to differential pressure across the valve. Under low negative pressure, the valve is in its normal, closed state - assuring a positive seal. As differential pressure increases, the slot in the valve opens. The greater the pressure, the wider the flexible valve opens to allow more fluid (and fibrous material) to pass. Because the check is soft and flexible, it actually conforms to the material as it closes, thereby maintaining good suction and optimum flow. Because the Flex Checks™ operate under this change in differential pressure and are normally closed, gravity is not required for the pump to operate properly. This freedom from gravity allows you to mount the Flex Check pump in any position! Flex Checks™ are self-cleaning and demonstrate excellent resistance to abrasive, highly loaded fluids, including semi-solids up to 1/8".
---