LIFTCHAIN® Hoist Series
Product Announcement from Ingersoll Rand Industrial Technologies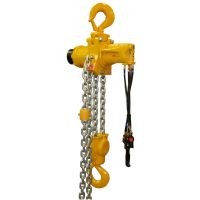 LIFTCHAIN® Hoist Series
1.5 to 100 metric ton Lifting Capacity
Featuring a compact, robust and modular design, the LIFTCHAIN® hoists offer a range of capacities from 1.5 to 100 metric tons with a variety of configurations including hook mount or with plain, geared, or motorized trolleys for mounting on jibs or beams.
Features:
Rugged, Compact Design and Light Weight All steel construction for better durability. Particularly adapted for difficult environments. Insensitive to dust and humidity. 100% duty cycle.
Suitable for Hazardous Explosion Proof Environments Air motors (unlike electric motors) are inherently explosion proof. ATEX classification (as per directive EC 94/9/EEC)
Exclusive Gear Type Air Motor Better ability than other motors to accept contaminated air. High starting torque ensuring good spotting capability. Virtually maintenance free. Minimal moving parts.
Automatic Multi Disc Brake Fully enclosed for better protection and corrosion resistance. No adjustment required. Maintenance free. Low pressure brake. "Venturi Effect" self-cleaning brake enclosure.
Infinitely Variable Speed Control Precision spotting control with infinitely variable speed through pilot pendent control or pull chain control.
Overload Protection Device (Available for non-CE models)
Main Air Emergency Stop (Available for non-CE models)
Upper and Lower Limit Switches Integrated in the hoist body for better protection. Allows the hoist to be also used in horizontal position. No adjustment required.
Corrosion Resistant Load Chain Grade 80 calibrated load chain. Corrosion resistant treated for better protection and longer life. 5:1 design factor for safety and durability.
Smart Design Bottom Blocks Bottom hook mounted on ball bearing for easier, smoother turning under load. Water drain hole to vent water from block. External lubrication point for better durability and ease of maintenance.
---