Fabricating Ceramics to Demanding Requirements
Product Announcement from Insaco, Inc.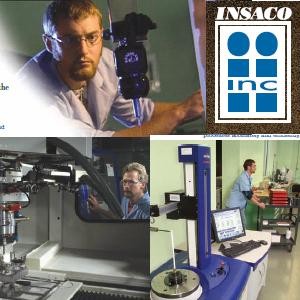 From aerospace to medical, scientific to semiconductors - Insaco has the knowledge, experience & technology to create custom components from ultra hard ceramic materials. We specialize in machining parts that often require tolerances measured in millionths of an inch, and wear properties that satisfy even the most demanding applications.
See a video demonstration, use the link at the bottom of the page
We have produced sapphire tubes, highly polished to less than one microinch Ra on all surfaces including the convoluted outside diameter.
We have machined Silicon nitride rings and bars, used in the bearing industry, with roundness tolerances of .00001".
With Insaco holes and features which are square, circular, or elliptical are possible in any ultra-hard material
Our largest machining center can accommodate parts of up to 72" x 102" x 30".
Insaco routinely machines both large and small ceramic parts, including thread grinding, anddrilling with tolerances to .00005" and angular accuracy to five seconds of arc.
To discuss how we can assist with your project e mail us or download our detailed brochure
You have successfully added from to your part list.

Play Fabricating Ceramics to Demanding Requirements Video
---