CMM Probes, Styli and Accessories
Product Announcement from Inspec Inc.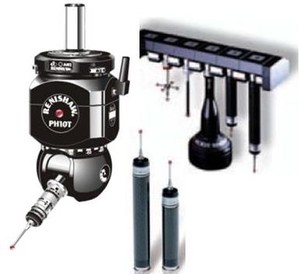 Measurement is vital to any manufacturing business, providing essential information to control processes and verify products. But older coordinate measuring machines can become bottlenecks if they fail to keep pace with changing measurement needs.
In the current climate, upgrading makes good economic and ecological. Inspec can provide a comprehensive range of retrofit solutions, from simple touch-trigger probing up to advanced 5-axis measurement.
Inspec is A2LA Accredited!
Inspec Inc. is your single source for Coordinate Measuring Machines, calibration, layout, inspection and measurement services. We provide parts, service, sales and support for Metrology Equipment.
We also provide cost competitive, highest quality metrology services and equipment, along with machine tool certification, CMM part programming and complete gage and hand tool services.
Inspec's service department is your one-stop-shop for all your metrology service needs; from large machines to precision hand tools, we service them all.
Whether its annual calibration, routine/preventative maintenance, repairs, upgrades or machine moves we can get the job done. Our trained technicians have an average of 14 years' experience in their fields servicing all types of metrology equipment and are skilled craftsmen who take pride in their job.
Time and location don't stop us; our technicians are available 24 hours a day 7 days a week. For the larger machines we can come to you and for the smaller items you can send them to us.
Let's talk about your equipment and how we can help you.
Our ISO/IEC 17025:2005 accredited temperature and humidity controlled laboratory includes: Coordinate Measuring Machines, Vision Systems, Optical Comparators, Hardness Testers, Roundness Analyzers, Surface Finisher Analyzer and Contour Tracers.
Our knowledgeable and experienced staff, along with our extensive selection of equipment and software allows us to provide complete contract inspection services. Whether on-site, at your facility or at our facility, we will support you; running parts, training, programming, scanning and much more!
---