Product Announcement from Inspec Inc.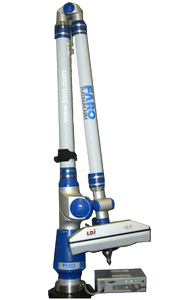 Portable Measuring Arms
Being portable and lightweight, made of carbon fiber and aluminum components, portable measuring arms are very convenient and comfortable. These arms are available in 6 or 7 axis versions and are designed for touch probe measurement and laser scanning measurement.
Inspec, Inc. is your single source for Coordinate Measuring Machines, calibration,layout, inspection and measurement services. We provide parts, service, sales and support for Metrology Equipment.

Inspec provides cost-competitive, high quality calibration, metrology services, equipment sales and machine tool certification. Our laboratories, located in Canton Michigan, provide: CMM part programming, inspection, layout, reverse scanning and complete gage, hand tool, electronics and instrumentation services. Inspec also has mobile labs and technicians available to provide inspection, calibration and training at customer's facilities.
Calibration and Metrology
Sales, Service, Solutions…
Sales / Upgrades / Retrofits
Service / Calibration / Repair
Electronics and Instrumentation
Gage
Large Metrology Equipment
Inspection / Training
In-house lab
On-site Inspection
Laser Scanning / Reverse Engineering
CAD Services
24/7 Emergency Response
Calibration is essential to ensure the accuracy of your measurement equipment.
Inspec recommends calibration and preventative maintenance (PM) for a machine a minimum of once a year.
Calibration is also necessary after a move, repair or retrofit.
Inspec calibrates machines to B89 and ISO standards traceable to the National Institute of Standards and Technology (NIST).
As an ISO-9001:2000 registered company with ISO-17025:2005 accredited laboratory procedures we are committed to high-quality and exceptional performance.
Tailoring your equipment to your specifications so that it runs smooth and efficiently for your needs and applications, is a main priority of Inspec, Inc. Whether it is upgrading to the latest technology available or just simply adding a few key features to enhance your equipment, Inspec can help. Our factory trained technicians and experience will guide you in making the best decision for your upgrade and/or refurbishment plans.
Our temperature and humidity controlled Laboratory, houses: Coordinate Measuring Machines, Vision Systems, Optical Comparators, Hardness Testers, Roundness Analyzers, Surface Finishers and Contour Tracers. We also offer inspection services off-site at our customers facilities. Our knowledge, experience and extensive selection of CMM software and Engineering/CAD software capabilities provide complete services.
Providing cost-saving solutions to our customers with our knowledge and expertise of the industry is our #1 goal.
Distributing and representing the top names in the field for over sixteen years, we have built a reputation within the industry of providing quality. Looking at our customers' specifications, budget, application(s), and working environment, we will lead our customers to the equipment that will suite their requirements.
Brochures/Catalogs
Email Us :
We offer 24/7/365 emergency support services to cater to your every need - deadlines, layout inspection, calibration due, equipment down, etc.
You have successfully added from to your part list.
---