Shock, Vibration & Environmental Recorders
Product Announcement from Instrumented Sensor Technology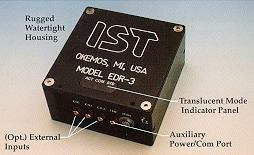 The EDR-3C Series is a portable impact, shock and vibration logger, recorder and detector has a built-in triaxial accelerometer along with many other features including easy setup and use and can be battery powered for up to thirty days, onboard memory and more.
Highlights:
Measures Shock, Vibration & Temperature
Options for Humidity, Pressure, Strain, Load and More
New -- Download via serial & USB.
Built-in PR Triaxial Accelerometer
On-board Memory up to 4MB for EDR-3C, 8 MB for EDR-3D
New Sliding Window Overwrite Mode
New Event Type Memory Partition
Up to 6 High-Speed Accel Channels
Precision Low Noise True 10 Bit A/D
Selectable Sampling Frequency to 3.2 kHz/CH
Programmable Trigger Schemes
Automatic Offset Correction (for DC accelerations, Bridge Balancing)
Vibration Controller Compatibility for Field Data Replication, PSD Profiles
Battery Powered, up to 30+ Days , 60 Days with New "Powersave" feature
Small Size: 37 cu in, 2.2 lb.
Powerful Windows 95/98/NT/2000/XP Software Included
Easy to Set Up and Use
The EDR-3C series impact, shock and vibration combo recorders offer you a time-tested reputation for proven performance and reliability with hundreds of successful installations since 1989. The EDR-3C series operates similarly and differs only in programmability features, on-board memory and channel capacities. Each impact, shock and vibration combo recorder is powered by a specially designed C-Cell battery pack (9 Volt optional.)
The EDR-3C impact, shock and vibration combo recorder is used in conjunction with DynaMax programs and downloads the EDR-3C's memory via an IBM compatible personal computer using serial & USB. Together, the EDR-3C and the DynaMax software program provide a powerful tool for accurately recording and analyzing dynamic environments.
About Instrumented Sensor Technology:
Instrumented Sensor Technology is the world leader in portable, stand-alone data recorders for dynamic measurements. IST supplies recording systems and data analysis software to leading companies throughout the world. We specialize in remote environments and offer the finest self-contained field recorder in the industry. With an international network of support staff we offer outstanding service after the sale to ensure your success.
---