SnapShock Plus Acceleration Vibration Recorders
Product Announcement from Instrumented Sensor Technology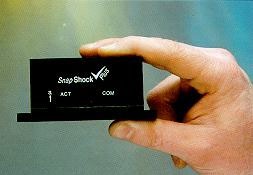 The SnapShock Plus (SSP) accelerometer, serves as a impact indicator and transportation data recorder, logger, and detector, are compact, battery powered acceleration event recorders that records peak acceleration including impact, vibration and shock. The new generation devices offer several improved capabilities over the standard Snap Shock accelerometer model. In addition to measuring peak-g shock levels with a built-in accelerometer sensor, the SSP also measures and records shock duration and velocity change for all events which exceed user defined thresholds. In addition the SSP is now available in triaxial version referred to as the SnapShock Plus/3D (SSP/3D)acceleration data logger / impact & transportation data recorder.
The SSP/3D acceleration data logger / impact indicator & transportation data recorder offers all features of the SSP acceleration data logger / impact indicator & transportation data recorder with the benefit of 3-dimensional measurement capability.
Each instrument measures and records the peak acceleration (shock detector, vibration, or impact indicator) levels to which it is exposed along with shock duration and velocity change, and the exact date and time of occurrence.
The user may specify recording thresholds in g-level, as well as velocity change, so that only those events which exceed g-level and velocity change thresholds of interest are actually recorded into permanent memory. The SSP acceleration data logger / impact indicator & transportation data series recorders utilize a low power design, enabling operation for weeks at a time while running on a single 9-volt battery.
Highlights:
Self Contained Acceleration Event, Date, Time Recorder
Single Axis and Triaxial Accelerometer Models
Measures & Records Peak Shock Level, Duration, Velocity Change, Date & Time
Programmable G-Trigger Levels
Programmable Velocity-Change Trigger Levels
Drop Height Measurement Mode for Package Test Shipments
Stores up to 5900 Readings
Rugged, Water-Resistant Housing
Mode Cycle Push-Button for Easy Manual Activation/De-activation
Battery-Powered, 8 to 30 + Day Operation
Very Small Size: 1.5"x3.2"x1.5", 7oz.
Built-In Piezoresistive Accelerometer
Excellent Low Frequency Response
Automatic Offset Correction
Programmable Low Pass Filters
12 Bit A/D for Improved Accuracy
1200 Hz Digitization Rate
New -- Download via serial & USB.
Windows 95/98/NT/Me/2000/XP Setup & Analysis Software\
Applications include:
Rail car Coupling/Humping Impact
Drop Testing
Package Shipment Monitoring
Package Drop Height Measurement
Ride Quality Measurement
Transportation Monitoring
Crash & Impact Testing
Aircraft Turbulence
Elevator & Escalator Monitoring
Aircraft Maintenance
Brake Testing
You have successfully added from to your part list.
---