Accessory Power Strips/Power Distribution Units
Product Announcement from Interpower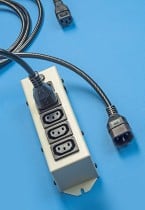 Accessory Power Strips are usually specified when one of the following conditions exist:
• The main system power will be controlled from the Accessory Power Strip.
• The main piece of equipment in the system does not have sufficient panel space for an accessory power module.
• The organization configuring the system is buying off-the-shelf equipment, and overall power control must be added.
All of the Interpower Accessory Power Strips are enclosed in an 18 gauge steel case and are intended for use with professional-quality industrial equipment. All stock Accessory Power Strips include a resettable rocker on/off CBE (Circuit Breaker for Equipment). The complete Interpower line offers a variety of options including different housing sizes, connector locks, Sheet J outlets, switches, guards, and more.
19" Rack-Mount Power Distribution Units Power Distribution Units are Accessory Power Strips in a slim 1U (U or Unit is 44.45mm on which panel heights are based*) design. They fit conveniently in a standard 19" equipment rack. Their varieties of options allow control of power flow through the entire rack from the unit.
Should your requirements dictate an Accessory Power Strip with features different than those included, a custom designed Accessory Power Strip may be requested.
Over 4 million parts in-stock. No minimum order requirements, and same day shipments available for in-stock item orders received by 6:00 p.m. Central Time. For ordering and technical information, please contact our Customer Service Department at (800) 662-2290 or order online at www.interpower.com.
Order a free Catalog today! Email catalog@interpower.com or call toll-free.
---