Custom Electric Brakes
Product Announcement from Island Components Group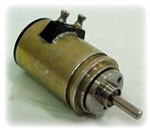 We offer a complete line of electromagnetic clutches, brakes and clutch-brake combinations in both standard and wafer sizes, originally designed for general military applications. These units can be designed for a wide range of input DC voltages, torque, response time, special temperature ranges, radiation, vacuum and life requirements.
We have 18 basic models in five frame sizes, mainly 5,8,11,13 and 18, which have been designed to produce a balance between size, output torque, response time and drag torque, and where maximum torque-per-watt and size-per-weight ratios have been optimized. These units will meet the majority of applications.
Contact Island Components Group with your custom requirements.
---