Isotech Introduces Nano-Positioner to Product Line
Product Announcement from Isotech, Inc.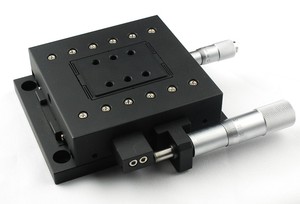 Isotech has recently expanded their positioning stages products to include a new line of Nano-positioners designed for precision positioning adjustment in motion application needs.
Isotech has introduced three new models of Nano-positioners, the NanoMover, MicnoMover, and MicnoMover Mini, to their line of position stages. These models have the capacity to load 3 kg and travel from 30 micrometers with a 20 nanometer positioning accuracy for up to 50 millimeters, depending on the model and purpose.
"The Nano-positioners we've included in our line of positioning stages allow us to expand the ability of tuning resolution for our motion applications," said Joe Casillo, president at Isotech.
Driven by mechanical means and PZT actuators, Isotech's Nano-positioners use frictionless flexures as the guiding mechanism, virtually eliminating the for Pitch, Yaw, and Roll error. This new line of Nano-positioners is durable for use in a wide range of applications, including interferometry, fiber optic alignment, laser cavity tuning, and inspection systems.
---