Custom Forumulated Silicone Compounds
Service Detail from JAMAK Fabrication USA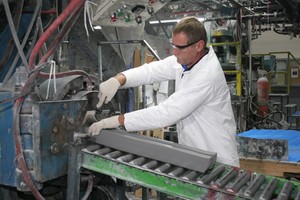 Jamak Fabrication is committed to providing Continuous, Innovative, Solutions throughout our facility including our ability to custom compound silicone for your application.

Jamak has on site custom compounding capability that can shorten the development cycle helping you get your product to market faster. Jamak is one of the largest users of silicone polymer materials in the US which gives us a competitive advantage. Our mixing facilities are 100% dedicated to silicone compounds and that is our primary focus. This allows us to tailor compounds to meet specific processing needs of silicone fabrication equipment which includes injection, compression, and transfer molding along with extrusion capability. Because we mix our own silicone compounds we can respond to changing customer needs much quicker, including changes to the compound to meet your specification needs. Jamak has mixing capability from 1 pound to 2000 pound batches to meet your specific need, large or small we can do it all.
Mixing Equipment:
Banbury Mixers
Sigma Blade Mixers 1 gallon to 300 gallons
Ross Mixers
Two Roll Mills
Three Roll Mills
Extruders
Testing Capability:
Full capability to perform ISO/ASTM/SAE/OEM elastomer specification testing

Standard Physical Properties
Heat, Fluid, and Low Temperature Stability
Compression Set Performance
Unique Test Capability

Coefficient of Friction
Compression Set Relaxation
Windshield Wiper Functional Testing
Thermal and Oil cycle testing from -40°C to 230°C
Appliance Gasket Life Cycle Testing
Durability Testing for Most Applications
You have successfully added from to your part list.
---