Allows Easy Loading For The Heaviest Parts.
Product Announcement from JENFAB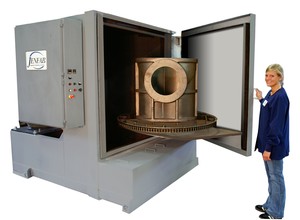 Jenfab Aqueous High Pressure Turntable Spray Washers
These front loading self contained cabinet style parts washers use high pressure spray impingement to clean parts placed on a rotating turntable. Typical parts cleaned include large engine blocks, transmissions housings, large bearing assemblies, aircraft engine, aircraft wheel cleaning and landing gear components. With load capacities of up to 20,000 lbs Jenfab turntable washers are used for heavy duty Defense and Industrial MRO operations, maintenance and rebuild parts cleaning. These parts washers are also used for new parts cleaning such as large castings during the manufacturing process. The retractable turntable allows easy loading for the heaviest parts.
Standard machines include steel construction with a heated wash and heavy duty In-Tank maintenance free seal-less pump available with pressures over 200 PSI. The turntable is mounted on an easily opening leak proof bearing mounted door. Standard options include fresh water and built in heated rinse stage, heated blow off, oscillating spray headers, stainless steel construction and filtration equipment
Available Options
Fresh water rinse
Recirculating rinse stage with heat
Filtration
Oscillating spray manifold
Center spray manifold
1-3 Tier Turntable
Electric-Gas-steam Heat
Blow Off
Heated Blow Off
Exhaust
Oil Separation System
Stainless steel construction
Jib crane for easy loading
Welcome to JENFAB! Aqueous Parts Washers & Ultrasonic Cleaning Equipment
JENFAB manufactures both standard and custom aqueous cleaning systems, industrial aqueous part washers, solvent free parts washers and metal parts cleaning equipment. The JENFAB product line includes vertical agitation immersion washers, automotive parts washers, belt conveyor spray washers, ultrasonic degreasers, ultrasonic cleaners and ultrasonic cleaning equipment. We also offer a full line of cellular parts washers for lean manufacturing work cells and one piece flow part cleaning.
Bearing Industry
Bio Medical
Cold Heading
Die Cast
General Manufacturing
Machined Parts
Metal Finishing
Metal Forming
Screw Machine
Jenfab offers several types of Solvent Free Aqueous Cleaning equipment for use in MRO including Aviation, Automotive, Construction and Military Maintenance, Repair and Overhaul. This Water based cleaning equipment includes spray washing, agitated immersion cleaning and Ultrasonic cleaning with some machines combining all three types.
Environmentally friendly Solvent free Aqueous cleaning can provide better cleaning results with lower operationg costs and complies with Green Manufacturing directives.
The Jenfab Blog

Jenfab VERTIMATIC systems with ultrasonics are precision, high volume, vertical
agitation parts washers. They can be configured as cellular, central or in-line
systems, with up-and-down parts agitation, ultrasonics and rotation in solution
for faster, more thorough ... more at The Jenfab Blog.

Play Allows Easy Loading For The Heaviest Parts. Video
---