Product Announcement from JENFAB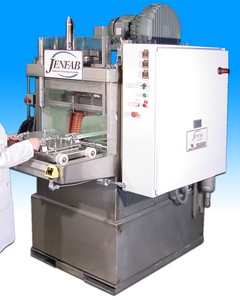 The JENFAB Oscillating Basket Washer (OBW) is a front loading spray washer designed to fit into cellular work stations for Lean Manufacturing operations. This machine will remove machining oils and lubricants, as well as all chips resulting from the machining operation. Environmentally safe aqueous detergents make this machine suitable for Green Manufacturing facilities.
In operation, the operator places the machined parts onto the carrier and initiates the start cycle. The carrier moves into the spray cabinet and the clear door closes. The spray wash cycle begins and the carrier moves back and forth through the sprays for the entire cleaning process. Sprays are located above and below the parts and thoroughly clean all ID and OD surfaces. Chips are collected in easily removable strainer baskets to keep the solution tank clean. Filters can be added as required for the sprays to meet higher milligram/millipore cleaning specifications.
After washing is complete, a powerful blow off removes the excess water, the door opens and the carrier returns the parts to the load station.
This machine is a huge energy saver, fewer sprays are required and cycle times are greatly reduced because the parts move back and forth in a confined space directly under the spray jets. There is no wasted movement as with turntable cabinet washers and the parts automatically load and unload to free up the operator. With fewer spray jets required, the amount of spray is reduced, meaning fewer BTU's and less KW of heat is required to produce cleaner parts.
Options can be included for adding a rinse tank of final fresh water or DI rinse. Filtration, disc, belt, or coalescing oil removal systems can be built in.
Welcome to JENFAB! Aqueous Parts Washers & Ultrasonic Cleaning Equipment
JENFAB manufactures both standard and custom aqueous cleaning systems, industrial aqueous part washers, solvent free parts washers and metal parts cleaning equipment. The JENFAB product line includes vertical agitation immersion washers, automotive parts washers, belt conveyor spray washers, ultrasonic degreasers, ultrasonic cleaners and ultrasonic cleaning equipment. We also offer a full line of cellular parts washers for lean manufacturing work cells and one piece flow part cleaning.
Bearing Industry
Bio Medical
Cold Heading
Die Cast
General Manufacturing
Machined Parts
Metal Finishing
Metal Forming
Screw Machine
Jenfab offers several types of Solvent Free Aqueous Cleaning equipment for use in MRO including Aviation, Automotive, Construction and Military Maintenance, Repair and Overhaul. This Water based cleaning equipment includes spray washing, agitated immersion cleaning and Ultrasonic cleaning with some machines combining all three types.
Environmentally friendly Solvent free Aqueous cleaning can provide better cleaning results with lower operationg costs and complies with Green Manufacturing directives.
The Jenfab Blog
Jenfab VERTIMATIC systems with ultrasonics are precision, high volume, vertical agitation parts washers. They can be configured as cellular, central or in-line systems, with up-and-down parts agitation, ultrasonics and rotation in solution for faster, more thorough ... more at The Jenfab Blog.
You have successfully added from to your part list.
---