For Precision Cleaning Requirements!
Product Announcement from JENFAB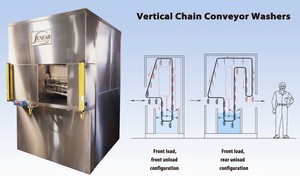 Vertical Chain Conveyor Parts Washers
The Vertical Chain Conveyor Part Washer is ideal for one piece at a time In Line Parts Washing combining both spray washing and agitated immersion cleaning with part drying in one small foot print. The VCC is ideal for Lean Manufacturing Cellular part cleaning operations. It is available as a front loading part washer for standalone cellular cleaning operations. Parts can be loaded and unloaded from the front or loaded from the front and unloaded out the rear.
Vertical Chain Conveyor Parts Washers occupy minimal floor space as it takes advantage of a vertical conveyor movement rather than a horizontal conveyor movement. These Immersion cleaning machines are ideal for Ultrasonic Cleaning and rinsing for precision cleaning requirements.
How it Works
Parts are automatically transported from the load station and completely immersed in the turbulated wash solution. The parts are immersion cleaned by a high pressure Spray Under Immersion System which focuses the solution directly at the parts and continually flushes away chips, soils, debris and coolant. Oil is removed and separated while chips are collected in the high volume micron filtration system. The solution is continually recirculated and filtered to insure a clean wash bath and to prevent redeposition of soils on parts. Recirculating forced hot air dryers are designed to be energy efficient and to minimize floor space.
VCC systems are available with multiple tanks for part wasing and rinsing and can be configured for cellular manufacturing one piece at a time part flow utilizing a common front load and unload location or for In Line Flow through part washing with automatic part loading and unloading of the parts at the front and unloading at the rear.
Jenfab has been building Vertical Chain Conveyor Parts Washers for nearly forty years. These Aqueous Front Loading and In line parts washers are also referred to as Cross Rod Degreasers and Cross Rod Parts Washers.
VCC 300
In line cleaning Aluminum and Magnesium die cast parts with Front Load and Rear Unload
Welcome to JENFAB! Aqueous Parts Washers & Ultrasonic Cleaning Equipment
JENFAB manufactures both standard and custom aqueous cleaning systems, industrial aqueous part washers, solvent free parts washers and metal parts cleaning equipment. The JENFAB product line includes vertical agitation immersion washers, automotive parts washers, belt conveyor spray washers, ultrasonic degreasers, ultrasonic cleaners and ultrasonic cleaning equipment. We also offer a full line of cellular parts washers for lean manufacturing work cells and one piece flow part cleaning.
Bearing Industry
Bio Medical
Cold Heading
Die Cast
General Manufacturing
Machined Parts
Metal Finishing
Metal Forming
Screw Machine
Jenfab offers several types of Solvent Free Aqueous Cleaning equipment for use in MRO including Aviation, Automotive, Construction and Military Maintenance, Repair and Overhaul. This Water based cleaning equipment includes spray washing, agitated immersion cleaning and Ultrasonic cleaning with some machines combining all three types.
Environmentally friendly Solvent free Aqueous cleaning can provide better cleaning results with lower operationg costs and complies with Green Manufacturing directives.
The Jenfab Blog

Jenfab VERTIMATIC systems with ultrasonics are precision, high volume, vertical
agitation parts washers. They can be configured as cellular, central or in-line
systems, with up-and-down parts agitation, ultrasonics and rotation in solution
for faster, more thorough ... more at The Jenfab Blog.
---