Immersion and Spray Cleaning Combined!
Product Announcement from JENFAB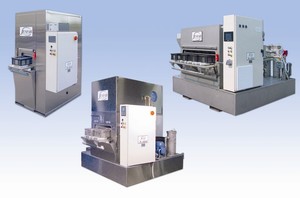 LeanClean Rotary Basket Industrial Parts Washers
The LeanClean 360 Series of Rotary Basket Industrial Parts Washers combines immersion and spray cleaning with available high tech Ultrasonics to meet industrial parts washing requirements as well as critical cleaning and precision cleaning specifications. This ergonomic front loading parts washer cleans parts in baskets or fixtures by rotating them in a turbulated immersion parts washing bath combined with a spray cleaning cycle. The cleaning cycle is followed by a combination of spray and immersion rinsing with available ultrasonic rinse, fresh water and/or DI water rinse. Parts are 100% dried in a minimal amout of time with Jenfab's Super Fast Energy Efficient Dryer.
Welcome to JENFAB! Aqueous Parts Washers & Ultrasonic Cleaning Equipment
JENFAB manufactures both standard and custom aqueous cleaning systems, industrial aqueous part washers, solvent free parts washers and metal parts cleaning equipment. The JENFAB product line includes vertical agitation immersion washers, automotive parts washers, belt conveyor spray washers, ultrasonic degreasers, ultrasonic cleaners and ultrasonic cleaning equipment. We also offer a full line of cellular parts washers for lean manufacturing work cells and one piece flow part cleaning.
Bearing Industry
Bio Medical
Cold Heading
Die Cast
General Manufacturing
Machined Parts
Metal Finishing
Metal Forming
Screw Machine
Jenfab offers several types of Solvent Free Aqueous Cleaning equipment for use in MRO including Aviation, Automotive, Construction and Military Maintenance, Repair and Overhaul. This Water based cleaning equipment includes spray washing, agitated immersion cleaning and Ultrasonic cleaning with some machines combining all three types.
Environmentally friendly Solvent free Aqueous cleaning can provide better cleaning results with lower operationg costs and complies with Green Manufacturing directives.
The Jenfab Blog

Jenfab VERTIMATIC systems with ultrasonics are precision, high volume, vertical
agitation parts washers. They can be configured as cellular, central or in-line
systems, with up-and-down parts agitation, ultrasonics and rotation in solution
for faster, more thorough ... more at The Jenfab Blog.
---