Product Announcement from JENFAB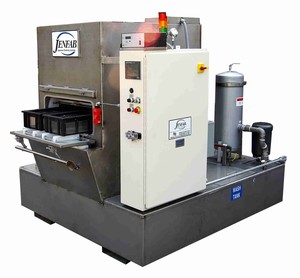 Wash and rinse solution tanks are located in storage tanks below the cleaning chamber. During the cleaning and rinsing cycles the solutions are pumped into the elevated cleaning chamber at 40 PSI, continually filtered and recirculated back into the cleaning chamber. The baskets are rotated in the clean filtered solution as powerful under water jets purge the parts with fresh solution at the rate of 250 gallons per minute continually flushing away all soils and chips. The cleaning chamber is continually purged with fresh filtered solution more than twice every minute insuring even the most complex parts with blind holes are thoroughly cleaned. Soils, chips and oil are separated continually ensuring longer bath life. Parts can also be processed on fixtures or pallets and an automatic loading device is available.
Welcome to JENFAB! Aqueous Parts Washers & Ultrasonic Cleaning Equipment
JENFAB manufactures both standard and custom aqueous cleaning systems, industrial aqueous part washers, solvent free parts washers and metal parts cleaning equipment. The JENFAB product line includes vertical agitation immersion washers, automotive parts washers, belt conveyor spray washers, ultrasonic degreasers, ultrasonic cleaners and ultrasonic cleaning equipment. We also offer a full line of cellular parts washers for lean manufacturing work cells and one piece flow part cleaning.
Bearing Industry
Bio Medical
Cold Heading
Die Cast
General Manufacturing
Machined Parts
Metal Finishing
Metal Forming
Screw Machine
Jenfab offers several types of Solvent Free Aqueous Cleaning equipment for use in MRO including Aviation, Automotive, Construction and Military Maintenance, Repair and Overhaul. This Water based cleaning equipment includes spray washing, agitated immersion cleaning and Ultrasonic cleaning with some machines combining all three types.
Environmentally friendly Solvent free Aqueous cleaning can provide better cleaning results with lower operationg costs and complies with Green Manufacturing directives.
The Jenfab Blog
Jenfab VERTIMATIC systems with ultrasonics are precision, high volume, vertical agitation parts washers. They can be configured as cellular, central or in-line systems, with up-and-down parts agitation, ultrasonics and rotation in solution for faster, more thorough ... more at The Jenfab Blog.
You have successfully added from to your part list.
---