Rotating Basket Parts Washer
Product Announcement from JENFAB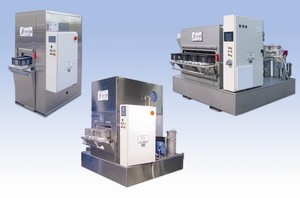 Vertical Design Saves Floor Space!
The Lean Clean 360 is a front loading machine that is capable of meeting critical and precision cleaning requirements, yet economical enough for use in general parts washing.
Immersion and Spray Cleaning
Baskets slide into the cleaning chamber to be washed, rinsed and dried. Wash and Rinse solutions are stored in reservoir tanks located below the cleaning chamber. The solutions are pumped through filters into the cleaning chamber, where baskets begin rotation (or rocking) as the chamber fills. The cleaning chamber is purged twice a minute with fresh filtered solution. Powerful underwater jets direct solutions through the parts to flush away all chips, coolant, grinding swarf and soils. Parts are continuously rotated in and out of solution, constantly filling and draining blind holes and intricate cavities.
Only LeanClean Offers all these Features
Basket Rotation
Complete 360 degree rotation for cleaning blind holes and deep cavities
Rocking / Oscillation
Adjustable 10 to 60 degrees each side of center for cleaning delicate parts that cannot be rotated
Superior Ultrasonic Action
The most powerful ultrasonic cleaning available, including advanced European tubular design with instant degas
Ultra Fast Energy Saving Super Dryer
Unique, recirculating design is field proven for over forty years to dry the most baskets per hour
Smallest Footprint Available for Wash / Rinse / Dry
Eight baskets / hour in only 15 square feet of floor space
Sixteen baskets / hour in only 42 square feet of floor space
Standard Features:
42" Load Height
Chip Collection Baskets (Easy Lift Out)
PLC Controlled
Fork Lift Pockets
Automatic Level Controls & Low Level Protection
OIT with Diagnostic Messages
Stainless Steel Pumps and Filters for Wash & Rinse
24V Control System
Drain Plumbing Options:
Ultrasonics (25kHz, 40 kHz, 80 kHz)
Multiple Frequencies can be combined for Cleaning Sub Micron Size Particles
Oil Skimmer
Coalescing Oil Separator
Final Fresh Water or DI Water Rinse Header
Additional Tanks Available on 360-2 Model
Custom Sizes Available for Larger Work Loads
Welcome to JENFAB! Aqueous Parts Washers & Ultrasonic Cleaning Equipment
JENFAB manufactures both standard and custom aqueous cleaning systems, industrial aqueous part washers, solvent free parts washers and metal parts cleaning equipment. The JENFAB product line includes vertical agitation immersion washers, automotive parts washers, belt conveyor spray washers, ultrasonic degreasers, ultrasonic cleaners and ultrasonic cleaning equipment. We also offer a full line of cellular parts washers for lean manufacturing work cells and one piece flow part cleaning.
Bearing Industry
Bio Medical
Cold Heading
Die Cast
General Manufacturing
Machined Parts
Metal Finishing
Metal Forming
Screw Machine
Jenfab offers several types of Solvent Free Aqueous Cleaning equipment for use in MRO including Aviation, Automotive, Construction and Military Maintenance, Repair and Overhaul. This Water based cleaning equipment includes spray washing, agitated immersion cleaning and Ultrasonic cleaning with some machines combining all three types.
Environmentally friendly Solvent free Aqueous cleaning can provide better cleaning results with lower operationg costs and complies with Green Manufacturing directives.
The Jenfab Blog
Jenfab VERTIMATIC systems with ultrasonics are precision, high volume, vertical agitation parts washers. They can be configured as cellular, central or in-line systems, with up-and-down parts agitation, ultrasonics and rotation in solution for faster, more thorough ... more at The Jenfab Blog.
---