92x92x32mm DC Fan
Product Announcement from JMC Products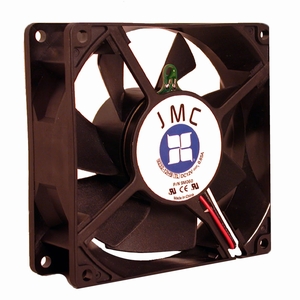 A single 9232-12V fan can be input into a chassis to successfully extract air from the entire system. The 9232-12V has been effectively applied with a passive heatsink and baffling system in order to direct air through the heatsink and out of a dual or single processor workstation. In addition, the fan is ideally utilized to cool power supplies in a similar method.
"The addition of the 92x32mm to their DC fan line is key to their continued success in developing market-driven products," states John Murphy, President of JMC Products. "The 92x32mm was designed to be a low-cost, low-power fan that will provide their customers with robust system cooling."
The 9232-12V is a dual ball bearing fan offering auto restart, tach output, or locked rotor output with an L10 life data projected to be 70,000 hours. The maximum operating impedance is 0.31 inches H2O and the size of the 9232-12V model is 92mm x 92mm x 32mm.
Pricing and Availability -- The 9232-12V DC fan is available now to OEM and distribution customers in low, medium and high speeds. JMC's 9232-12V fan ranges in price depending on fan features, speed, and quantities ordered. All JMC fans are guaranteed to be free of defects in material and workmanship when operated under specified temperature, humidity, and voltage ratings. For additional information on the company and its thermal solutions, call them.
---