Phoenix Heatsink Meets Intel Server Requirements
Product Announcement from JMC Products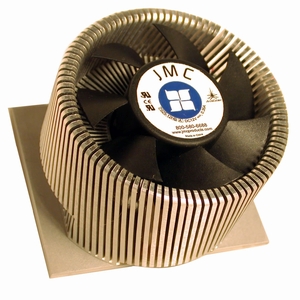 JMC's Phoenix 70 has passed the most aggressive processor thermal tests to become an ideal cooling solution for the high performance Intel® XeonTM processor with 512-KB L2 cache for dual processor servers.
A model solution for processor speeds of 3.0 GHz and beyond, the all-Aluminum, lightweight Phoenix 70 provides efficient cooling that will meet the thermal requirements for the most demanding applications. The thermal resistance with thermal interface material is measured by JMC to be 0.290° C per watt. The radial fin design of the heat sink is based on the patented dual-pass airflow architecture permitting optimum airflow through the unit to cool the processor. The Phoenix 70 is an active solution equipped with a 70x25mm high-speed fan running at 5500 RPM, and is suitable for power reaching 80 watts.
"We followed Intel's published design guidelines and test procedures throughout the design process to ensure that the Phoenix 70 would successfully meet the cooling requirements of the Intel® XeonTM processor," says Jerry Johns, Vice President of Sales and Engineering of JMC Products. "Moreover, the Phoenix 70 meets the cooling requirements for the newest Intel® Pentium® 4 processors for desktops, allowing JMC to offer designers a single cooling solution for multiple processors," he adds.
"JMC strives to make next generation computing possible by supplying cooling solutions that allow processors to run at accelerated speeds," states Jerry Johns. "New technology needs a great deal of power and consequently produces a huge amount of heat. Therefore, we are continually challenged to design cooling products that will maximize a processor's performance."
The Phoenix 70 has a customizable base plate allowing it to be mounted to standard microprocessor sockets, including Socket 478 and 603. The cooler measures 53mm h x 79mm d, and weighs 389 grams.
---