SuperSeal Inserts for Stress-Free Sealing
Product Announcement from JOGLER, Inc.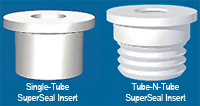 Direct-Reading Site Flow Indicators
Exclusive, Patented Features for Maximum
Safety and Zero Maintenance
Jogler Direct-Reading Flow Indicators are the simplest, most reliable way to observe liquid or solids flow without compromising the integrity of your piping system. All models are available in either armored styles for protection in exposed locations or lantern styles for 360-degree viewing.

Simple, Reliable, and Maintenance-Free
Jogler flow indicators are simple: the only components (not including mounting hardware) are the armored shield or lantern cage, the sight tubing, and two self-sealing Super-Seal inserts. These products are maintenance-free, because only the Teflon Super-Seal inserts and the borosilicate sight tubing are exposed to process fluids. Once they are installed, they do not have to be removed and disassembled for inspection or cleaning. Standard shields are epoxy-coated carbon steel.
SuperSeal Inserts for Permanent, Stress-Free Sealing
All Jogler flow indicators incorporate patented PTFE Teflon Super-Seal inserts, which seal on the outside diameter, not the ends, of the sight tube. Since the tube is free to move within the Super-Seal without leaking, stresses caused by differential expansion between the sight tube and the housing are eliminated. There are no elastomer seals or o-rings to inspect and replace: Super-Seal inserts last the life of the sight tubing.

Wide Range of Sizes
Jogler flow indicators are available in diameters up to 8 inches. Standard lengths are 8 and 12 inches; lengths up to 72 inches are available.

Jogler Quality Program
Jogler flow indicators are quality ensured to exceed performance requirements with maintenance-free service. JoglerÌs Quality Program (JQP) is based on national (ANSI/ASQC) and international (ISO 9001) guidelines. The JQP monitors product quality and preserves material traceability. Systematic reviews of vendors, materials, processes, aand product construction are consistently evaluated by management for improvement through technical innovation.

Factory Mutual Approved
All Jogler flow indicators are approved by the Factory Mutual System.

Easy Installation
Jogler flow indicators are shipped fully assembled for easy installation.

Options and Accessories
Many options and accessories are available:
Sanitary Fittings
Custom Designs
PTFE Teflon® Drip-Tube
Models for all Applications
General Service at or near Ambient Temperatures:
Model FS Single Tube, Armored
Model LAS Single Tube, Lantern
Cryogenic or Hot Process Conditions:
Model FT Tube-N-Tube, Armored
Model LAT Tube-N-Tube, Lantern
Corrosive, Viscous, or Sanitary Service:
Model UFSS Single Tube,
Teflon-Lined, Armored

Model ULAS Single Tube,
Teflon-Lined, Lantern
Corrosive, Viscous, or Cryogenic or
Sanitary Service at Hot Process
Conditions:
Model UFTS Tube-N-Tube,
Teflon-Lined, Armored

Model ULAT Tube-N-Tube,
Teflon-Lined, Lantern
You have successfully added from to your part list.
---