Product Announcement from JORC Industrial LLC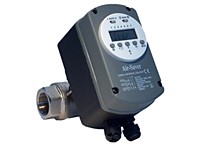 A typical compressed air system will lose compressed air through pipe connections, non-demand drains etc. At the end of the final work shift, the Air-Saver will shut the air tank off from the rest of the system. The content of compressed air within the air tank will be saved rather than lost through pipe leakages. The Air-Saver is installed on the air outlet of the air tank. The Air-Saver will automatically open just prior to the start of the work shift, and closes just after the working shift is over

Features:
Slow valve opening to avoid water hammer in pipe line system
Time programmed or remote controlled
Built-in quartz controlled timer
Integral lithium battery protects program for five (5) years
Current time display
Each individual day can be programmed according to specific working day shift requirements
Reset Function
External push button controls (disassembly not necessary)
Easy to program
FPM seals
Orifice 1 inch
Manual valve opening and closing possible, in case of a power failure
Fully automatic- maintenance free
Easy to obtain air in case of overtime work
Integral Lithium battery protecting the program
Micro-Processor controlled (multi cycle 7 day program)
Large LCD display showing program cycle and current time
Compact design -Easy to install
User friendly control panel - Simple to program
Remote switching kit available
Benefits:
No unnecessarily start up of compressors during periods when compressed air is not required.
At least one air receiver's worth of compressed air savings per day.
Possibility to shut of parts of the pipe line system where compressed air is not needed continuously.
Manual Override: Yes
You have successfully added from to your part list.
---