3C CR126HAIM, Roll Bending Machine
Product Announcement from J&S Machine, Inc.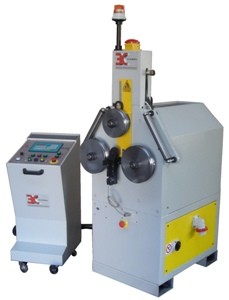 New from 3C - C.L.O.M.E.A., the CR126HAIM is a hydraulic, open-end roll bending machine with three drive rolls in a pyramidal configuration. The CR126HAIM uses an inverter to control the roller rotation speed, which allows the operator to transition between large and small radii smoothly.
One special feature of the CR126HAIM bending machine is its ability to take information from previous bends to calculate roller positions for a desired radius. This feature is useful when a variety of radii are needed for one profile. By performing a few test bends on a profile and storing the results, the control unit can use the information and eliminate the guess work in programming the correct position of the central roller to achieve the desired radius. Another special feature is the use of a photocell, which allows the operator to program an initial feed distance and reduce material loading time.
The machine housing and frame are constructed of heavy G30 cast iron mounted on an electro welded sheet metal base, accurately machined, and painted with a high-grade industrial paint. All the shafts, and pinions are constructed of nickel chromium steel that is heat-treated and ground, mounted in grease lubricated dynamic tapered bearings designed for heavy-duty loads. The bending rolls are fabricated specifically for the customer's application from high-grade tool steel with smooth surfaces to reduce marking of material and heat-treated for maximum wear resistance.
Side guide rolls are mounted outside the bending rolls and manually adjustable for controlling the pitch of a coil or for correcting a natural twist in the bent part. The CR126 HAIM can operate in a horizontal or vertical bending position bending plane.
---