3C CRM-140, Hydraulic Bending Machine
Product Announcement from J&S Machine, Inc.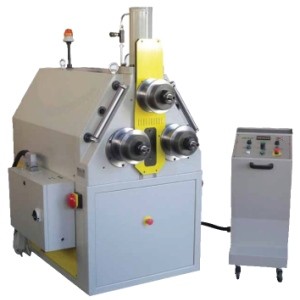 The CRM-140, from 3C - C.L.O.M.E.A., is an open-end roll bending machine with three drive rolls in a pyramidal configuration. The central roller is hydraulically positioned to achieve a desired radius. Roll position is fed back to the control panel by an encoder and is recorded on a digital display. The descent of the roller can be programmed to move incrementally with each push of a button. Descent speed of the central roller is controlled by a flow control valve on the cylinder and is held in position by a check valve to ensure stability. The outside rollers have adjustable center distances to three different positions to better adapt to the different materials and applications to be rolled.
The housing and frame of the bending machine are constructed of heavy G30 cast iron mounted on an electro welded sheet metal base, accurately machined, and painted with a high-grade industrial paint. All the shafts, gears, and pinions are constructed of nickel chromium steel that is heat-treated, ground, and mounted in grease lubricated dynamic tapered bearings designed for heavy-duty loads.
The bending machine uses a 5.5 horsepower self-braking gear motor to drive all three rolls and a 2 horsepower hydraulic motor to power the cylinder for roll positioning. Roller rotation is single speed and can be set to run continuously or only when a directional button is pressed. Manual activation of all the machine's movements are done by push buttons located on the control console. Side guide rolls are mounted outside the bending rolls and manually adjustable for controlling the pitch of a coil or for correcting a natural twist in the bent part. The machine can operate in both the horizontal and vertical position.
---