SIMASV Bending Presses
Product Announcement from J&S Machine, Inc.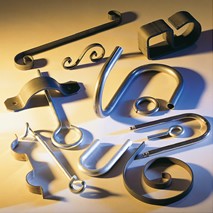 Bending Presses
SIMASV became the first company to manufacture horizontal bending presses. Known for their flexibility and versatility, SIMASV presses are user-friendly and easy to maintain. A sturdy machine with a steel worktable, and hardened and ground steel carriage, SIMASV bending presses are specially designed for the execution of bends and shapes for flat, square, round bar, tubes or various profiles in iron, steel, and light metals and can be fitted with countless tools, making them suitable for use within many types of fabricating industries. They are an indispensable tool in a metalworker's shop where bending, straightening, blanking, punching, etc. needs to be carried out; as well as in factories where accurate production works are necessary. With over fifty years of experience in press bending, SIMASV offers a competitive product with constant technological advancements. Thousands of units have been sold throughout the world and the availability of spare parts for 20 years after the sale shows clear testimony to the remarkable quality and great lifespan of SIMASV bending presses and Simasv's commitment to the markets they serve.
Standard Features Include:
Cylinder located below the worktable, eliminating obstructions that would normally limit the available workspace.
The work is performed in a direction moving away from the operator who can be positioned in front of the machine for greater visibility and operator safety increasing production and efficiency.
Dust wipers on carriage slides to reduce wear from debris
Centralized forced lubrication system for ease of maintenance
Patented rapid change tool locking pins (T.40 Models) with tapered design eliminating tool post movement for accurate bending. This design allows for rapid tooling changeovers while increasing the safety of the machine due to the rigid mounting.
Stroke regulation by means of extremely sensitive precision electric limit switches and a graduated measuring rule for precise positioning of the punch stroke.
Micrometer adjustment of the stroke allows the possibility of adjusting the punch stroke even while the machine is under maximum pressure, eliminating the need for test bends.
Digital Series Features Include:
Program and micrometer stroke adjusted through Clock2 electronic control
Stroke adjustments possible under maximum bending pressure, eliminating the need for test bends.
35 key touch screen keyboard, 16x2 LED characters, programmable "X"-axis (stroke) and "Y"-axis (feed positioning) with 550 program storage capability
Five language settings
Inch or millimeter measuring units
Program selector: manual, semi-automatic, automatic
Precision positioning: +/- .001"
Forced lubrication through automatic electric pump

Play SIMASV Bending Presses Video on YouTube
---